BusConnects Phase 5a
3 months ago Mon 12th Jun 2023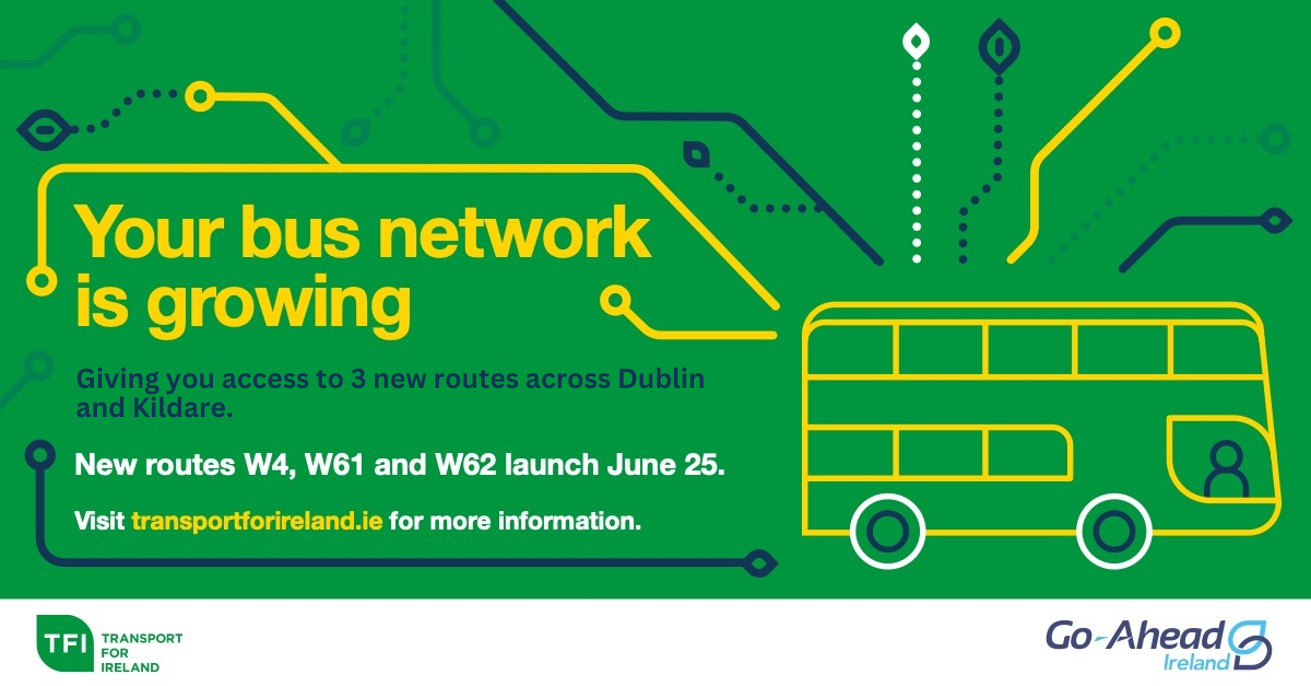 Phase 5a of the BusConnects Network Redesign involves the introduction of new W Orbital routes W4, W61 and W62. Operated by Go-Ahead Ireland, these 3 new routes provide access to routes across Dublin and Kildare.
These routes will be entering services on the 25th June 2023. Please note that there will be diversion(s) in place effecting route W61 from the 25th June 2023, for more information, please click here.
W-Route Timetables
W4
The Square, Tallaght
Grange Castle Business Park
Liffey Valley Shopping Centre
Blanchardstown Shopping Centre
W61
Hazelhatch Station
Celbridge Main St
Salesian College
Maynooth Station
Maynooth Community College
W62
Newcastle
Saggart
Greenogue Industrial Estate
Citywest Road
The Square, Tallaght
Phase 5a will serve the west and south-west regions of Dublin, including Newcastle, Saggart, Citywest, Tallaght, Liffey Valley, Lucan, Blanchardstown, Hazelhatch, Maynooth, and Celbridge. The new network will provide enhanced connectivity across all transport modes on the Transport for Ireland (TFI) Network.
Route W4 stops near Liffey Valley Shopping Centre on the Lucan Road, where passengers can connect with the C1, C2, C3 and C4 services at the same stop. The W4 also connects with the N4 orbital route at Blanchardstown Shopping Centre, interchanges with the Luas at Tallaght and Cheeverstown, and will connect with commuter rail services at the new Kishoge station.
Route W61 connects with the C3 and C4 routes at Maynooth and with the C4 in Celbridge, and with commuter rail services at Maynooth and Hazelhatch stations.
Route W62 interchanges with Luas services at Tallaght, Citywest Campus, and Saggart.
Anne Graham, CEO of the National Transport Authority, said: "The launch of Phase 5a is yet another step forward in improving the connectivity and reliability of Dublin's bus networks through the BusConnects redesign. Phase 5a's orbital routes allow passengers to travel between suburbs without having to first travel into the city centre, providing for more efficient trips and decreased journey times."
Andrew Edwards, Managing Director of Go-Ahead Ireland, said: "Go-Ahead Ireland is delighted to bring the next phase of BusConnects to the public alongside our colleagues at the NTA. Orbital routes such as the W4, W61 and W62 greatly enhance the overall accessibility and efficiency of the network, and Go-Ahead Ireland looks forward to continuing to serve its communities and customers."
For more information, please click here.